Is your 1997 or 1998 Dodge Caravan instrument cluster failing intermittently? Does the entire cluster such as the odometer display, backlighting, speedometer, tach, gas gauge, etc., stop working and randomly starts working again? If so, then we can help! We offer this Dodge Caravan instrument cluster repair service for 1997 and 1998 vehicles. We professionally repair your existing instrument cluster and have it back to you quickly so that your vehicle is up and running again.
The benefits of this repair service are:
It saves you hundreds of dollars over the dealership
1 business day turnaround
Backed by our 1 year guarantee
Fastest way to get your vehicle back on the road
Just reinstall the instrument cluster, and you're back in business!


________________________________________________________________________________________________________


2006 Dodge Ram
$100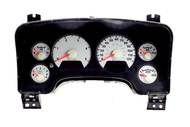 This is a complete rebuild of your 2006 Dodge Ram instrument cluster for Ram 2500 or 3500 trucks. We repair the instrument clusters for faulty or erratic speedometer or tachometer. We replace all of the backlighting as well.
Dodge Ram instrument clusters have a common problem with the speedometer and/or tachometer sticking, giving incorrect readings, or not working at all. Replacing the unit is not the best solution because many of the replacement units often use the same faulty components as the original cluster.
Our rebuild service is the easiest way to get back on the road and the ONLY way to avoid a trip to the dealership.
There is NO PROGRAMMING REQUIRED!
Your mileage will not be affected.
Send us your instrument gauge cluster.
Please follow the instructions below to send your instrument gauge cluster to us for repair.
Free return shipping. You pay shipping to us. We pay shipping back to you.

We accept Checks or Money Orders. Please include payment with instrument cluster.

Credit Card payments accepted over the phone or via PayPal. (512) 217-3609


Instructions:

1 - Purchase the repair services above.

2 - Print and complete the repair order HERE.

3 - Remove your instrument cluster.

4 - Package the instrument cluster and repair order in a padded box.

5 - Send it with delivery confirmation to:

Rapid Transit Services
1205 Vanderbilt Circle
Pflugerville, TX 78660

You will be emailed when the item is received, repaired and shipped back to you.

No programming required. Your miles will remain the same.

We offer the fastest service available. Instrument clusters sent by mail will be repaired and sent back the next day.