CUSTOM LED INSTALLATIONS
Instrument Gauge Clusters
& Automotive Components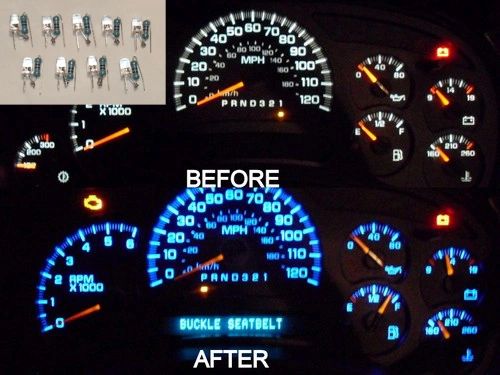 Colors Available
$50.00
Buy it now with Paypal or credit card.



Call or Text (512) 217-3609 for more information.

We install LED illumination backlighting in all automotive components.


Climate control units
Instrument gauge clusters
Dash switches
Audio units
Cruise control switches
Window switches
Information displays


Call (512) 217-3609 for a local transaction or set up UPS/USPS delivery to have your component sent to us. We offer fast repair service.
Instructions:


1 - Purchase this repair service.

2 - Print and complete the repair order
HERE


3 - Remove your component.

4 - Package the component and repair order in a padded box.

5 - Send it with delivery confirmation to:

Rapid Transit Services
1205 Vanderbilt Circle
Pflugerville, TX 78660

You will be emailed when the item is received, repaired, and shipped.
Your vehicle can be driven without the instrument cluster installed.

We offer the fastest service available. Instrument clusters sent by mail will be repaired and sent back the next day.

All repairs performed by a 25 year ASE/L1 Certified Master Technician.